Whenever I tell people what I do at Underpinnings, they inevitably ask me about sizes: What size am I? What size are you?  What size is she? What about that lady over there? What about Dolly Parton? Everyone is always stunned when I eyeball their frames and guess.
I'm sure you've heard the oft-cited statistic that about eighty percent of people are wearing the wrong bra size, but you probably think you're part of that vaunted fifth that has it right. Then again, sixty-four percent of Americans think they're above average drivers, which might make you more willing to reevaluate how certain you are about your own personal bra.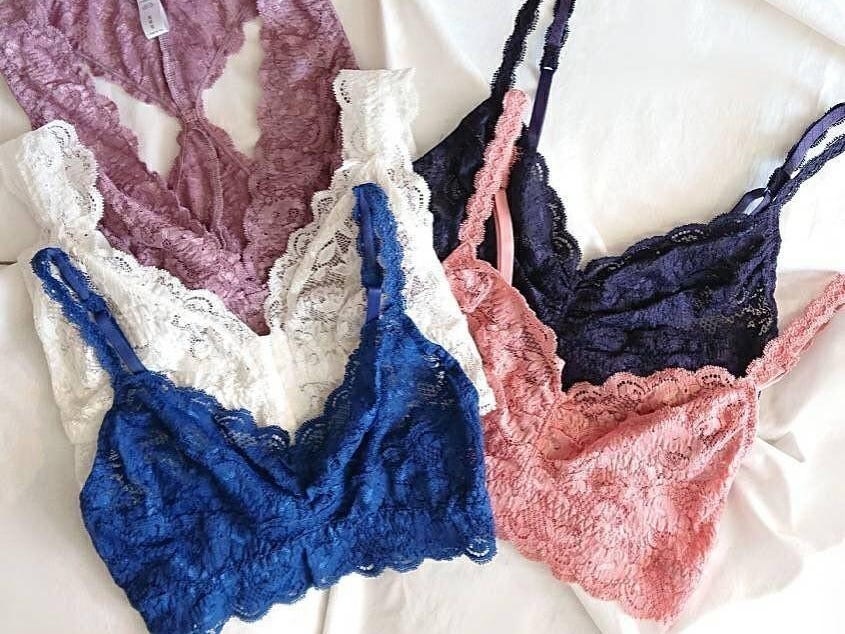 In the last few years, scores of lingerie start-ups have appeared online, trying to make bra shopping a less miserable experience than it is at Victoria Secret. All of them promise a broader size range and more holistic schema than the narrow matrix you see at traditional retailers, and most of them have you take a pretty easy quiz to find your true size.
The most successful, by far, has been Third Love. If you're a person who has social media, reads magazines, or has listened to a podcast, you've heard of them. A lot of the people for whom I have performed my bra-size-guessing party trick have asked me why they should bother getting fit when they can "just do it online." I didn't have a satisfying answer beyond "I will give you champagne" and "our lingerie is prettier" and "we have way, way more sizes", so I got e-fit at Third Love so I could say with certainty.
Their Fit Finder™ quiz is straightforward: put in the size you're wearing, the brand of that bra, and answer a few questions its age and fit. It takes about a minute, and then you're set. The site jumps to your assessed size and their offerings in that size. Once you order (a Third Love bra is about $78), you'll have it in a few days. I answered the questions and picked out one of the three bras it recommended for my size and shape.
Despite the fact that I have a drawerful of pretty things in my size (I am a professional fitter), I was still excited to get my Third Love bra! It came quickly and the packaging could not have been cuter. Unfortunately, my breasts were spilling out of the cups pretty significantly, so I called customer service to get some advice. The helpful agent told me there was a little cookie stashed in the side of the cup, and that I could pull that out to give myself a little more room. I did that and while my breasts got a little breathing room, there was a small pouch of air that had me tugging at the cups all day. It was also a little itchy. I ended up putting the cookie back in since the overflow wasn't as bad as the bubbling, but still, this was an imperfect solution.
I took their quiz in good faith, and I'm fortunate to be one of the lucky people wearing the right size, but it just wasn't as substitute for being fit in person by a true professional. The half-size idea they promote is a bit too clever; in my experience, that's more about finding the right bra since the sizing schema is already granular. Brand to brand, style to style, and even garment to garment, bras vary like anything else, so an in-person try on and an expert pair of eyes can be make or break.
Moreover, this quiz is only going to get you into the right thing if you're wearing something pretty close to the correct size. I send folks out the door regularly with bras two to four band sizes and three to five cup sizes off what they walked in with. So if you're wearing a 34D and you're actually a 32E, their calculations might fit you into the right thing, but most people are off by much more. The quiz also depends on you being able to self-report accurately what's wrong with your bra (another thing I'm able to diagnose at a glance). Many people have been wearing the wrong size for so long they don't even know something is wrong or that it could be better! This is all to say nothing of the size range, quality, variety of styles, and the needs of those who have softer tissue, hormone fluctuations, widely spaced breasts, or significant asymmetry.
I get the appeal of one-click shopping; I'm an Amazon Prime member, too! Still, there are some things that are best done the old-fashioned way. You wear a bra very nearly all day every day, so why not get the exact right size? You'll feel more comfortable as you move around the world, and you get to avoid that "can't wait to take off my bra" feeling when you get home from work. That's gotta be worth an hour of your time once or twice a year.
Did I convince you to give professional bra fitting? Make an appointment with me or one of our other fitters! We'll even get you that glass of champagne I mentioned earlier.